Back in 3 December 2020, the Government announced the Government Land Sales (GLS) Programme for the first half of 2021 (1H2021), which comprises four Confirmed List sites and nine Reserve List sites. These sites can yield about 7,045 private residential units, 101,200 sqm gross floor area (GFA) of commercial space and 1,070 hotel rooms (See Snapshot of list below).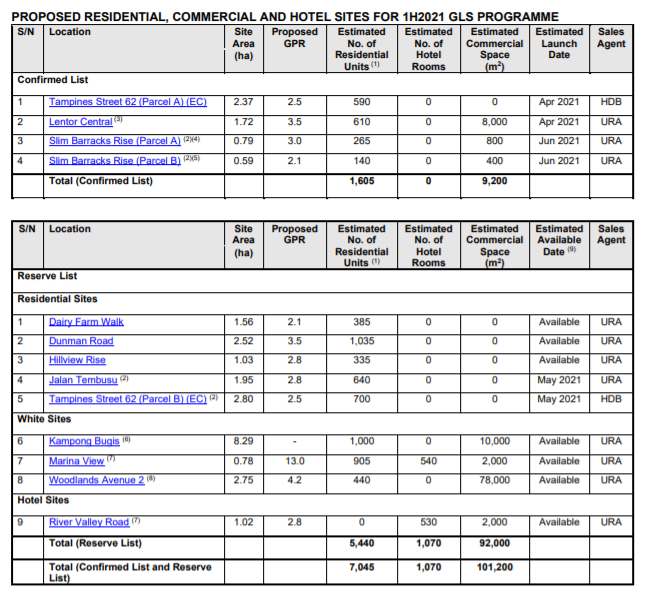 The total number of estimated residential units on the confirmed list amount to 1,605 units.
Click HERE to download the document.
What does this mean to the overall supply of unsold residential properties in Singapore?
Let us take a look the supply of unsold residential units in Singapore over the past few years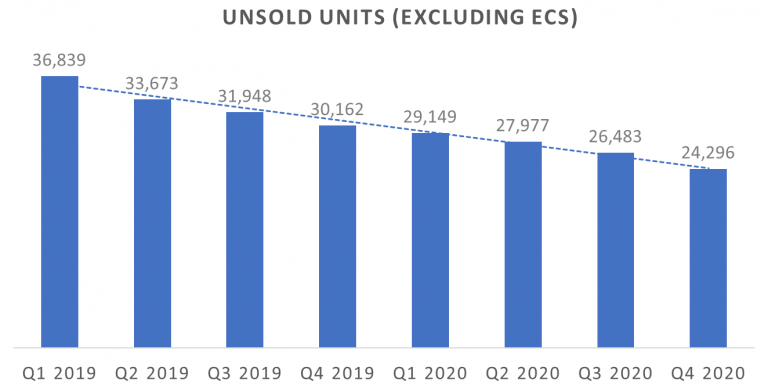 (Source: PropNex Research and URA)
Since the start of 2020, the supply of unsold private non-landed residential units has decreased by 5,866 (30,162 – 24,296) units.
As of Q1 2021, the unsold inventory has dropped to 21,600 (a big drop of 3,360 units).
Excluding EC units, the supply for new residential units for 1st half of 2021 is 1,015 units. We can see that this supply is definitely not enough to cushion the fast-depleting unsold inventory in the pipeline.
Based on the recent GLS done in 2021, we can see that demand to replenish land banking by developers have increased by the recent number of bidders and winning tender price.
What might happen going forward?
As we have witnessed over the last few quarters, the property price index have continued to inch upwards even in this pandemic situation.
With real time data and price lists from all nearly all new launches in Singapore, we can see that choices for 1st time home buyers, investors and upgraders have been reducing faster than what new GLS sites can replenish.
Resale transaction volume has been increasing as a result of the widening gap between new launch versus resale properties and the consequence is an increase in resale prices in the overall property market.  
We believe that we will continue to see an uptick in prices in the public resale segment as well as private property segment over time unless there are some fundamental changes in the economy or government policies.
This comes back to the question on whether this price increase is 1) sustainable; 2) Are there still good residential properties with strong fundamentals which tend to hold value better than others to be found in either the new launch market and resale market?
We would like to hear from you on your requirements. Contact us via the Contact Form or WhatsApp us directly. 
We would love to hear from you!