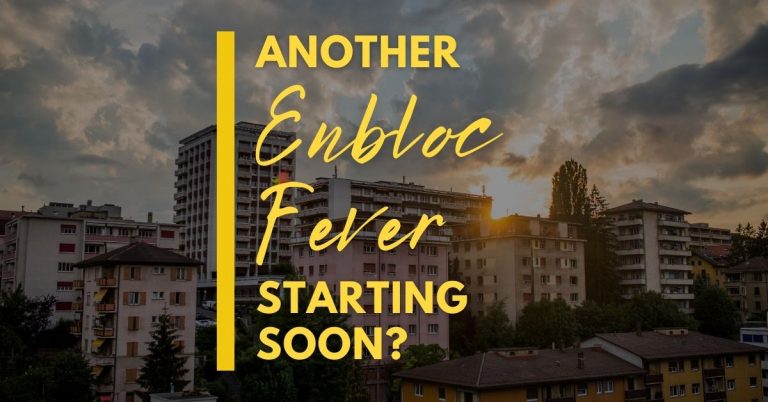 Rejecting a Reasonable Offer at the Early Stages of Listing
13 June 2021
With all the talk in the papers recently about another enbloc fever about to start, here's my take on what I think will happen, what has changed since then and what will likely be the scenario this time round.
My name is Benjamin and I have been involved in collective sales since 2018.
The last enbloc fever started in Q2 2017. Let us take a look at the pattern of unsold inventory of non-landed private property since 2012 and understand how the enbloc cycle started in Q2 2017.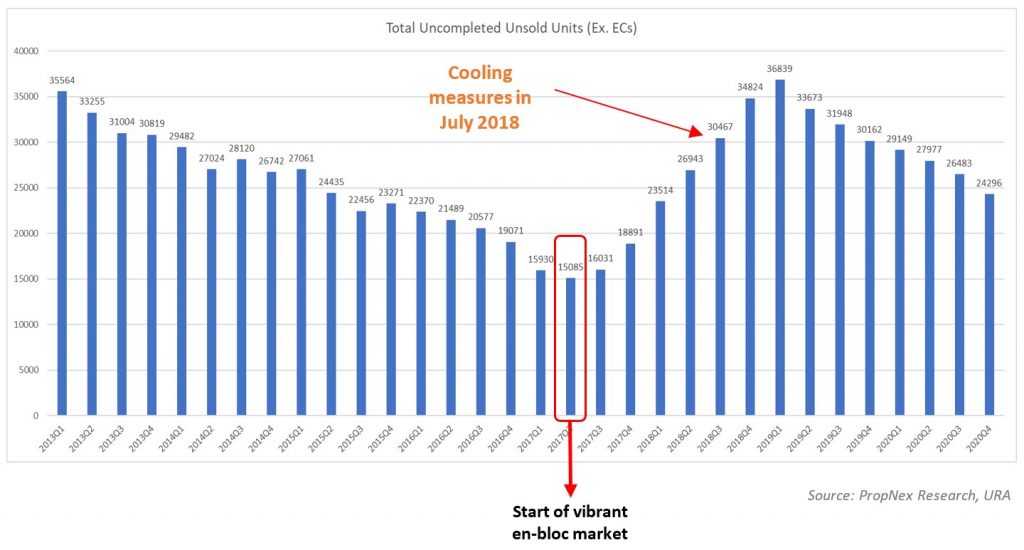 We can see that since the peak supply in 2013, the supply of unsold non-landed private property dropped steadily from 35,564 to just over 15,000 units in Q2 2017 where the last enbloc fever started. If we look deeper, some condos actually kick-started their collective sales process sometime back at around Q3/Q4 2017 where unsold inventory was about 20,000 units.
The last round of cooling measures was implemented on 6th July 2018 and only a very small handful of collective sales tenders went through successfully. There were more than 100 attempts by different developments who managed to achieve 80% consensus to launch a public tender but were unsuccessful in finding a buyer since then till 2021.
As of Q1 2021, the supply of unsold non-landed private property has dropped to 21,600 and as of the time of writing, the supply has further dropped to below 20,000 units.
Since the start of 2021, our sources have indicated that there are more than 170 condos who have restarted their collective sale process and we know that developers are on the hunt to replenish their land bank.
To the owners of old condos which are suitable for collective sale, do not be too happy and think of a big windfall by setting a high reserve price (RP) on your development. You will be sorely disappointed. Read more below.
What has changed since then and will the volume of collective sales repeat?
First of all, the cooling measures implemented on 6th July 2018 has changed the costing for developers significantly. Let us take a look at the changes below.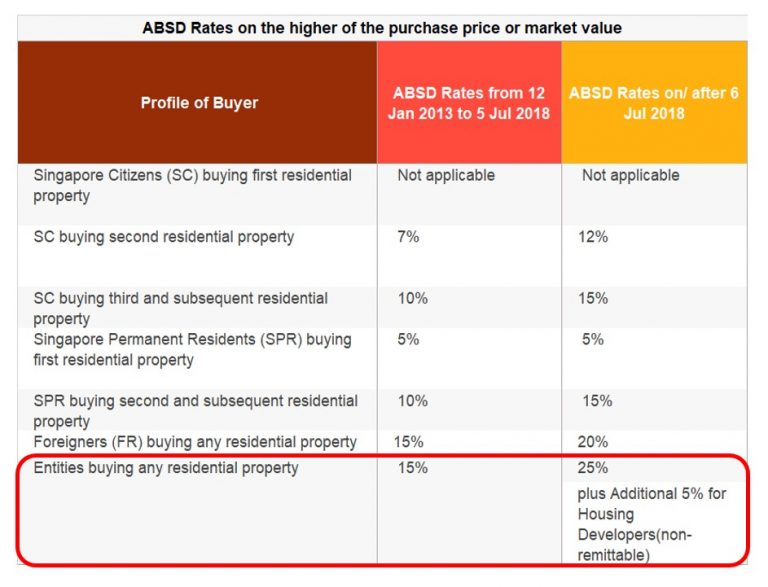 As a result of the cooling measures, the enbloc fever cooled down swiftly after July 2018. Currently, developers have to pay a non-remissible additional 5% of the land price which they have bid on upfront and also risk a penalty of 25% (previously 15%) of the land price IF they are unable to sell out the whole project within 5 years of winning the enbloc tender.
Taking into account the increase in cost of labour and materials (approximately 30% or more) due to Covid-19 and one will realise that developers this time round are affected greatly and running on thinner margins than ever while trying to strike a balance between buying new land and churning out well-designed end products for the public.
Another factor to be considered by developers going for enbloc sites are Development Charges (DC) and Lease Top-Up Premium (for topping up the lease tenure back to 99years of old leasehold properties). Development charges are published every six months by URA on 1st March and 1st September. This is set by URA and can change from time to time. It is a very powerful tool and can be used to control the prices of enbloc prices as this are essentially extra costs to be added on to the land tender for developers to consider. High DC rates and/or lease top-up premium will increase the risks undertaken by developers.

Enbloc sites will usually add on another 9-12 months before construction work can start for developers as it needs to allow time for current owners to move out; most successful tenders will usually allow up to another six months of free stay to existing owners before taking over the vacant unit. In comparison, for GLS tenders, developers do not need to incur extra costs such as demolition works and can start work as soon as planning approvals have been obtained. Thus, this would also add on to the risks of developers going for enbloc sites.
Currently, the bulk of the unsold inventory are found in Core Central Region (CCR) and the shortage of supply are found in Rest of Central Region (RCR) and Outside Central Region (OCR) where there is a big demand by the majority of local home buyers/upgraders due to affordability.
I believe that developers are focusing strongly on acquiring land in these 2 regions rather than CCR this time round. In fact, the bulk of successful enbloc tenders done in 2018 came from CCR. 
We can see that the government is determined not to let prices go up quickly like back in 2017 as every time an enbloc fever occurs, there is enormous upward pressure and the resultant inflation of real estate prices does not bode well for the economy on the whole; especially when we are now trying to recover from Covid-19 where many sectors are still performing poorly.
I predict that this round of collective sales will be swift and short as the government has already ramped up the supply of Government Land Sales (GLS) sites in anticipation of this. The increased in GLS sites act as a direct competitor to potential enbloc sites. Condos that are able to launch fast and set a REASONABLE reserve price will likely be successful, provided they are able to launch their attempt and close the tender between now till the first half of next year.
The later one launches the tender, the higher the chance of a failure rate. The window of opportunity is very small this time round as we may also be facing another round of cooling measures since the property price index has risen by over 6% as of Q1 2021 since last year. Incidentally, the property price index rose by 9.2% before the last round of cooling measures were implemented.
Impact of possible cooling measures
For home shoppers waiting at the sidelines, don't be too happy as prices didn't really drop much since the last cooling measures back in July 2018. There was a short knee-jerk reaction and prices continued to trickle up at a slower pace before gathering pace from July 2020 onwards.
Read my post on The Latest GLS Tender Prices to have an idea on what to expect going forward on upcoming property launches.  
If you want to find out more about the current property market and are on the lookout for an investment property or upgrading your home, please contact Benjamin Yeo at 8778-8778 or Glynis Tan at 8363-2331 or WhatsApp us directly.   
We would love to hear from you!